Aviator Biographies
Lt. Charles "Charlie" Rudolph D'Olive
In 1965 a group of aviation enthusiasts recorded the stories of World War I aviators.
Charles Rudolph D'Olive was the last man to be declared an ace in WWI, but not because of the date of his last kill. He was declared an ace in the 1960s, when they were closing out the service records from WWI. His citation for his DSC on 9/13/18 spoke of three kills, but the official record from that engagement ended up tallying two kills. He had had single kills in two other combat situations, one before the 13th and one after it. In the mid-60s, he petitioned the Air Force, and his record was integrated, between the citation and the other records, making him an ace. Because he was then in his later years, that recognition was very gratifying to him, and he was proud to be a member of the American Fighter Aces Association.
Charlie, as he was called, joined the Signal Corps in Memphis, Tennessee on April 28, 1917 and was posted to the 93rd Aero Pursuit Squadron in Vaucouleurs, France on August 22, 1918.  D'Olive shot down his first enemy aircraft, a Fokker D.VII, near Vieville-en-Haye on September 12, 1918.    On October 28, 1918, he was reassigned to the 141st Pursuit Squadron as a flight commander.

Lt. D'Olive received the Distinguished Service Cross (DSC) for extraordinary heroism in action near St. Benoit, France, on September 13, 1918.  Lt. D'Olive, in conjunction with another American pilot, engaged and fought five enemy planes.  Outnumbered and fighting against tremendous odds, Lt. D'Olive shot down three enemy planes and out-fought the entire enemy formation.
Charles was born on July 10, 1896 in Suggsville, Alabama and died on July 20, 1974 in Waterloo, Iowa.  Honorably discharged in February 1919, he was married in 1939 and had two children.
In the recording, Charlie talks about his experiences in battle, of being shot down and how he searches out a farmer's wife in France to find out what happened to his friend who crashed.  He also talks about the primitive aircraft that they flew and what they had to do to make them work.
---

Jack entered service on May 25, 1943, at the age of 21 and was sent to Hamilton Field, Laredo, Texas, for training as a tail gunner on a Consolidated B-24J Liberator. After training, he was assigned to the 9th Bomb Squadron, 7th Bomb Group, 10th Air Force, based in India.

The 7th Bomb Group had two primary missions: bombing bridges in Thailand and Burma and carrying fuel over the Hump into China, landing in Kunming and Kweilin. One of the bridges that his group repeatedly bombed was the bridge at the River Kwai. Jack talks about how they had to drop their bombs from 50 feet to avoid hitting the prisoner-of-war camps that were located next to the bridges.

Jack received the Air Medal for 300 mission hours before being sent home. He was discharged from the service on November 2, 1945 and returned to work at Northrop Aircraft. Jack was married for 49 years and has two children.
---
Robert H. Allison joined the Navy at the age of 20 and achieved the rank of Lieutenant Junior Grade. He took the test to become a Navy pilot on July 8, 1942 in Kansas City, Missouri, and entered the service on November 15, 1942. After preflight training in Iowa City, Iowa, he received his primary flight training at NAS Ottumwa, Iowa, in the Stearman biplane, basic training in the Vultee SNV-1 Valiant, and instrument and advanced training in the North American SNJ. On August 13, 1944, he was assigned to squadron VC-93 on the Escort Carrier Petrot Bay, where he flew the FM-2 Wildcat.
In the time span from March 25 to July 24, 1945, the squadron, with both fighters and bombers, had flown 2360 missions during the Okinawa campaign and had 110 incidents of damage to its planes by enemy anti-aircraft fire. The squadron is credited with having shot down 17 enemy aircraft while losing only one to a Japanese plane. Bob's particular contribution to the war effort was 54 missions, firing thousands of rounds of ammunition, dozens of rockets, dropping several napalm bombs and several 100 pound bombs on designated enemy targets. During the Okinawa campaign, Bob talks about having to ditch his plane on takeoff from the carrier.

Lt. (j.g.) Allison received the Air Medal and four stars, the DFC (Distinguished Flying Cross), an Asiatic Pacific Theater Medal, an American Campaign Medal and a Presidential Unit Citation Ribbon.
He married Lieutenant Margie Wada on July 1, 1947, after she received her discharge from the Army Nurse Corps. They have been married for over 55 years and have two children, a boy and a girl. After leaving the service, he attended USC and received a degree in Chemistry. After graduation, he then went to work for Great Lakes Carbon.
If you would like to read more of Bob's war stories, visit his web page.
---

Maurice Coplan lived in England with his parents before the United States entered World War II. Educated in England, he joined the Air Training Corps (RAF) in August 1941. Transferring to the U. S. Army Air Forces on June 7, 1943, at the age of 22, where he reached the rank of1st, Lt., Maury was assigned to the 8th Air Force's 3rd Air Division, 94th Bomb Group, 333 Bomb Squadron, . After completing 25 missions as a B-17 bomber pilot, he transferred to the 2nd Tow Ttarget and Gunnery Flight (8th Bomber Command gunnery school). After completing gunnery school, he transferred to the 361st Fighter Group flying P-51 Mustangs.
Maury has flown and qualified in both English and American aircraft. DH82 (Tiger Moth), Miles Magister, Miles Master, AT-6, P-51, B-17, PT-17, C-47, UC-64, and numerous civilian aircraft.

After the war, Maury returned to the States where, under the G. I. Bill, he became an Electronics Engineer.
Most of Maury's missions were comparatively uneventful. Two of them were not. Maury talks about the mission where his B-17 was hit and the struggle to return and how while flying a P-51, he was able to evade being shot down.
I

In October,1942, Edwin W. Kahn, age 20, enlisted in the US Army Air Corps at Los Angeles, California. He received flight training in the following aircraft : PT-17, BT-13, AT-6, AT-11 and B-24 Liberator bomber. Ed was promoted to 2nd lieutenant and assigned to flight training as an advanced flight instructor, qualifying in the following aircraft : B-17, B-25, B-26, C-46 and C-47.
After one year as a flight instructor, Ed was assigned to the 8th Air Force's 2nd Air Division 785th Bomb Squadron of the 466th Bomb Group and went through B-24 flight crew training at Tonopah, Nevada. Ed's squadron was sent to Attlebridge, England from where they flew 16 bombing missions over Germany, Austria and France, just before VE day.
Ed was awarded the Air Medal and the Victory Medal and was discharged in October, 1945. Under the G. I. Bill, Ed graduated from UC Berkeley with a BS degree in structural engineering. He is presently retired and lives with his wife in Marina Del Rey, California.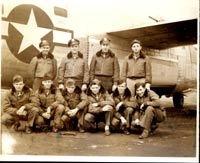 Ed talks about his B-24 flight home from England after the end of the war, and of the harrowing experience where for 10 hours of an 11 hour flight, they had zero visibility. Lost, with wings icing up and running low of fuel, they jettisoned everything that was not tied down, including the machine guns. They finally made land just before running out of fuel.
---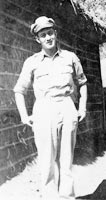 First Lieutenant Gordon Whitney enlisted in the Army Air Corps in October 1942 at the age of 20. At the time Gordon was attending Cornell University in Ithaca, New York, and was in the ROTC Field Artillery unit. He was sent to Maxwell Field in Montgomery, Alabama, for classification and then on to Lafayette, Louisiana for primary training. From there he went to Walnut Ridge, Arkansas for basic training and Blytheville AAF, Arkansas for multiengine training. Finally, he was sent to Louisville Air Field in preparation for combat. In March of 1944 he was assigned to the South East Asia theatre, China, Burma, and India, supporting the British and Chinese ground troops.
Gordon received the Air Medal with three oak leaf clusters and the Distinguished Service Cross with two oak leaf clusters. He also received the Asiatic Pacific theatre Campaign Ribbon with three battle stars. The citation cites " Extraordinary achievement in more than 500 hours of flight over terrain in China and Burma where enemy fire was probable and expected. Flying heavily loaded unarmed cargo aircraft through instrument weather over hazardous terrain, brought supplies, equipment, and reinforcements to the forward areas."
Discharged on August 4th, 1945, at Ft. Dix in New Jersey, he returned to Cornell University where he studied civil engineering and obtained a BSCE under the G.I. bill. After graduating he went to work for Barber Greene Co. in Aurora, Illinois, married and had four children.
Gordon talks about his experiences through basic training and crash landing due to bad weather. He tells about how his plane was the last out of a Chinese airfield right behind the advancing Japanese, landing on rice patties in Burma and dropping supplies to the British troops.
---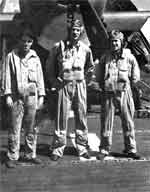 Captain USN Howard Homer Skidmore joined the US Navy at the age of 21, on January 13, 1942, in Charleston Illinois. He was then enrolled in the Navy's V5 aviation program in St Louis Missouri where he was required to meet the requirement of learning to fly with 10 hours of instruction. On June 6, 1942 he was sent to NAS Corpus Christi Texas for primary, basic and advanced training. From there he went to NAS Miami and Jacksonville for pre-operational and operational training.
Assigned to the carrier the USS Santee (CVE-29), Howard initially flew the SBD Dauntless dive bomber and later switched to the newer version the TBF, Avenger torpedo bomber, the TBM. He made three trips to North Africa escorting ship convoys and looking for German submarines in the North Atlantic.
In January of 1944 he returned to Groton Connecticut and then on to Ulithi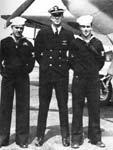 Harbor, 1000 miles east of the Philippines, on October 5, 1944 where he joined the USS Cabot (CVL-28). As part of a group of three carriers, a battleship, four cruisers and thirteen destroyers they attacked Formosa, now called Taiwan. His group was assigned to protect the Task Force. During this engagement the USS Canberra, a cruiser, was struck by a torpedo. The Cabot was assigned to protect the cruiser fending off a Japanese attack. After a second cruiser was struck by a torpedo, the Japanese mounted a major attack estimated at 60 to 70 aircraft. Thirty three of the enemy aircraft were shot down.
On the 24-26 of October, the Cabot saw action in the Battle of Leyte Gulf. During all these missions the fleet was under constant attack. On November 25th 1944 the Cabot was hit by a Kamikaze, hitting a TBM, putting a hole in the deck destroying the catapult and radar rooms with the loss of life. Thirty five men were killed and 17 were wounded. At this time Howard was wounded receiving burns to the face and hands. Temporary repairs were made and the Cabot remained on station until its scheduled return to Ulithi Harbor for major repairs. The Cabot also weathered a typhoon in December that sank three destroyers and damaged other ships.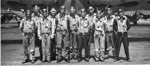 In January 1945 the Cabot was in the South China Sea looking for the Japanese fleet and on February 16 and 17 was the first US Navy force to directly strike at the Japanese homeland, Tokyo. On April 7th, 1945, Howard participated in an attack on the battleship Yamamoto where his aircraft received a direct hit after releasing his torpedo. He was able to return to one of the larger carriers with the damaged aircraft.
On April 13, 1945 the Cabot returned to San Francisco. After the war Howard went to Flight Instructors School, Married Lois Waage of Walnut Illinois. After 30 years of service Howard retied on May 1st, 1972.
In the audio section of the webpage, Howard talks about his service in the Navy and the attack on the Yamamoto.
---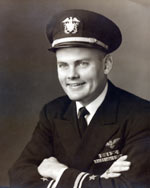 Capt Dan Colburn entered service, September 18, 1942, at the age of 19 in Minneapolis Minnesota.
He attended the Naval aviation progran, V-5, for Civil Pilot Training at St Mary's College, Winona, Minnesota, flying J-3 Cubs. In the spring of 1943 he was sent to the University Of Iowa, in Iowa Cit, IA. From there, in July of 1943, he went to primary flight training at Ottumwa, Iowa. He flew the Stearman, "Yellow Peril" for about seventy five hours. Ottumwa was one of about twenty Primary bases called "E" bases, the "E" in this case stood for Elimination. It's where they washed out pilots that they didn't think could complete the program.
In Sept. '43 he went to Ellyson Field in Pensacola, FL, where he received advanced training in the low winged Vultee "Vibrator"BT-13. He also flew the SNJ (AT-6) and had instrument training in the "Link" Trainer. Returning to Pensacola, Main Side, in November of 43, for training in the PBY. Here is where the split was made,sending some pilots to fighter bases and the multi engine pilots to either Bronson Field or to remain at Main Side for the PBY. Only Bronson and Main Side had seaplane facilities. Main Side had a preponderance of foreign student pilots. At the time Dan went, there were British, French and some South American students. There were only about twenty Americans. Again this was intense training, lots of flying and lots of ground school.
January 15th, 1944, Graduation day!! In dress uniform, he shook the Admiral's hand and received those "Navy Wings Of Gold." It was a wonderful day but sad as well, as he remembered friends who lost their lives in training accidents. When he said that the training was intense, He meant every word of it, since during that period, the Navy was losing more pilots in combat than they were graduating.
After receiving fight training in Pensacola, Florida he was shipped out to the Pacific.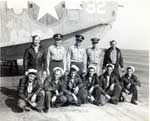 Assigned to the VPB 26 squadron he flew missions in support of the invasions of Saipan, Iwo Jima, and Okinawa.
He received two Distinguished Flying Crosses and three Air Medals. Dan married his wife, Marlowe, in 1944, 12 days before leaving for the Pacific. After the war he became a pilot for Minneapolus Honeywell, from 1946 through 1948. After leaving Honeywell, he flew for Braniff Airlines until 1956. Between 1965 and 1987 he flew for Douglas Aircraft as a test pilot. Finally, flying for Scenic Airlines until 1991. Dan and Marlowe have two children.
In the audio section of the web page, Dan talks about an extraordinary story of how he and his crew and providence dealt with a particular problem that arose during what he thought would be a "milk run" flight:
On June 27, 1945, they were scheduled to fly to Saipan for an engine change to their PBM. They welcomed the chance to get some R&R away from the constant harassment of Japanese Kamikaze attacks and the noise of General Quarters alerts. Take off was routine from Retto, Okinawa as they started their 1211 mile trip to Saipan.
At almost midpoint of the flight a crew member announced that they were losing the top cowling on the left engine. They were faced with 3 options. Continue their flight to Saipan and hope the cowling would stay on, (they could finish the flight on one engine if necessary), return to Okinawa and forego their much needed R&R, or attempt a landing in the open sea to reattach the cowling. The latter alternative was accompanied by a strong possibility of an accident either on landing or during takeoff. They elected to continue the flight to Saipan. As they flew on the cowl situation worsened but the left engine continued to run.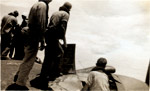 After a few minutes however, a miraculous thing happened. The sea activity stopped and the water seemed smooth as glass in all directions. They elected to take advantage of the almost unbelievable situation and landed the aircraft on the smooth sea. After shutting down the engines they immediately got to work on the left engine cowling. After assuring that the cowling was firmly attached they took off without incident and completed their trip to Saipan. They really enjoyed their R&R which consisted of clean bed sheets, showers, clean uniforms and plenty of satisfying beer.
---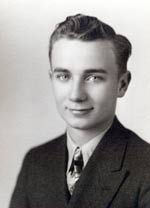 Mel decided early in life to become a pilot. At the age of 6 years, Lindberg's flight of crossing the Atlantic initiated the change from train engineer to pilot. At 16, he started taking flying lessons and at 18, obtained his private pilot's license. Mel knew how to fly before he could drive a car. At the age of 19, in 1940, he enlisted in the Inactive Reserve, U. S. Army Air Corps at Rankin Academy, Tulare, California. In early 1941, Mel became part of a new program, using civilians as flight instructors. At the time, the Army Air Corps needed primary instructors to support the nearly 100 training fields around the country. Several times Mel looked for other assignments but the Air Corps would not release him. Those instructors that resigned and joined as flying cadets were reassigned as instructors. During his time at Rankin, he instructed over 100 future pilots.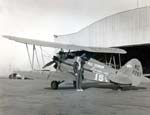 When interviewing for the position, he was told that most of the men that he would be training would be officers and older then himself. He was instructed to look older so Mel grew a mustache. By 1944, the need for trained pilots was over and Mel was released. He went to work for United Airlines flying DC-3s and then to the United Airlines Modification Center at Cheyenne, Wyoming as a test pilot flying B-17s and B-24s.
During the time when he was flying the DC-3, he met his future wife, who was employed at a field where Mel had a layover to wait for a repaired magneto. They were married that same year. Mel continued to work for United after the war, retiring at the age of 60 in 1981 as a 747 pilot.
In the audio recording, Mel talks about his experiences as an instructor and some of the problems encountered flying the modified B-17s and B-24s.

---
2nd Lieutenant Edwin Hatter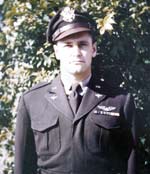 Ed's goal was to become a Navy Carrier pilot, and at the age of 21 he tried to enlist in the Navy. Unfortunately, the Navy was only accepting 18 years olds. So in February 1943 he enlisted in the Army Air Force in his home town of Torrance California. Prior to enlisting he was working for Northrop Aircraft as a draftsman.
He was told that it would take six months before he would be called, but in three weeks he was off to Kerns Utah for testing and classification as a pilot. From there, in January of 1944, he went San Antonio for pre flight instructions and then on to Colman Texas for primary flight training in a Fairchild PT-19, Cornell. Basic flight training was at Brady Field Texas in a Vultee BT-13 Valiant. In June of 1944 he was sent to Waco Texas for Advanced multi engine training in a Cessna AT-17, Bobcat. Graduating from flight school in August of 1944 he was shipped to Europe as a C-46 pilot.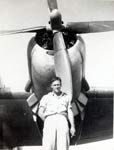 In the European theater he supported the troops in the battle of the bulge, carrying supplies and troops to the front line and the wounded back to England where the critically wounded were then transported back to the states. In January of 1945, while waiting for orders he was billeted in London, for two weeks during the blitz, when the Germans were launching V-2's and V-1's at London.
Transferred to the China Burma Theatre, he flew 85 flights around the clock, sometimes twice a day, over the hump bringing supplies into China. After the Japanese surrender, Ed continued to fly men and material out of the war zone until November of 1945, when he returned to the states. He remained in the service until December 1955.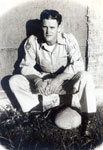 After being discharged, Ed went to work for North American Aviation in the Engineering Department and back to school under the GI bill where he took engineering courses. Ed married and had three children, a boy and two girls.
For his service in the Army Air Force he received an air metal plus cluster, and for the European Tour of Operations, two battle stars and an Asiatic Pacific ribbon, two battle stars.
---
Wes followed his brother into the Army Air Corps. Prior to entering service, he obtained his pilots license in 1940 through the Civilian Pilots Traning (CPT) program. At the age of 21, he enlisted in Los Angeles on November 7th 1941. After flight training, where he flew the PT-19A, BT-13, AT-6 and the B-24, he was assigned to Ellington Field, Houston Texas as a B-24 instructor. Not being content with being an instructor, he requested and was transferred to the Eight Air Force in England.
Capt. Stone was assigned to the Second Division 466 Bomb Group 786 Squadron. He flew 32 missions which included Berlin. He received the Air Metal DFC. After returning to the states he was assigned to Alamagordo New Mexico where he flew B-24s as targets for students in pursit school. From there, in 1945, he went to Lowrey Field, Flight Engineer School in Denver, again flying B-24s equiped to train B-29 flight engineers. He remained in the Air Force until January 6th 1946 where he was discharged in San Antonio Texas.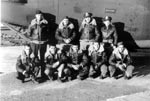 After discharge he flew, as a Captain, for TWA, Western Airlines, Arrow and Flying Tigers until he retired in 1980. Wes married and had three children, a boy and two girls.
---

Dave wanted to be a flyer at an early age. At nine years of age, he met Lindberg at a meeting where he was speaking; where he told Lindberg that he wanted to be an aviator.
He enlisted in the Army Air Corps in California on December 11, 1941 and was told that it would take several months before he would be called. On February 11th 1942 he was called up and sent to March Field, California and then on to Ontario, California for primary and basic and then on to Stockton for advanced training in AT-6's.



Shipped to Palestine with the 98 bomb group, he flew 29 missions over Italy, Greece and Sicily until the 30th when he was shot down by an ME 109. Dave piloted a B-24 aircraft on missions over enemy oil fields and submarine dens. He participated in softening up operations on enemy positions preparatory to the invasion of Sicily and Tunisia. He also took part in the Egypt and Libya campaigns. When he was shot down he was captured by the Italians and held prisoner until Italy gave up. His camp was then taken over by the Germans who moved the prisoners to Germany where he remained until the end of the war when Patton's Army liberated the camp.
Dave received the Distinguished Flying Cross, Purple Heart, Air Medal, American Theatre Ribbon with one star, European Theatre Ribbon with four stars, American Defense Ribbon, and the World War II Victory Medal.

Back in the states he received extensive corrective surgery. He was honorably discharged from the services in September of 1946 and went back to school at the University of Southern California and was involved with the Civil Air Patrol. Dave worked for the Los Angeles County Air Pollution Control District (APCD). Dave retired from the APCD on July 1, 1982.